Looking for Cisive — Home of HCM Solutions for Pre-employment Screening and Risk Mitigation? Click here
Looking for Driver iQ — Background Screening for the Trucking Industry? Click here
Vehicle Open Recall Information
Open Recall information is acquired by CARCO directly from the vehicle manufactures. The data provides explicit information regarding your vehicle open recall and the remedy to address your safety and peace-of-mind.
Recall information includes a comprehensive description of the risk, the recall effective date and remedy.
The risk description provides detail around the defective equipment identified and the potential impact on the safety of the vehicle and its occupants.
The remedy identifies the action to be taken to remediate the open Recall.
Open Recall Information includes:
Name of the Recall
Vehicle Identification Number (VIN) of the vehicle identified for the Recall
Recall Effective Date
Previous Recall Date
Risk/Description of the Recall
Remedy of the Recall
Risk Type and Description
Recall I.D.
NHTSID Number
OEMID Number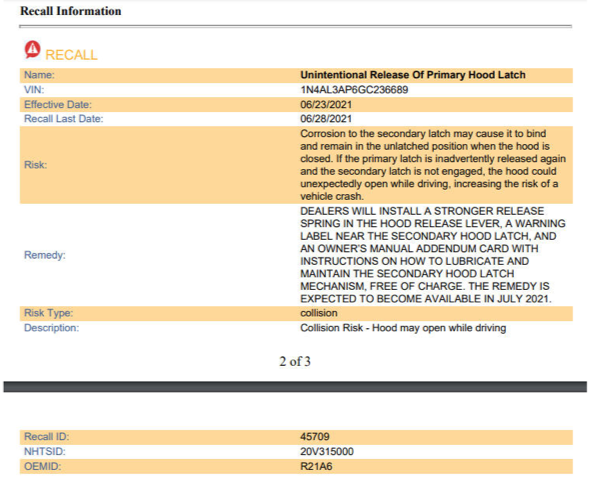 Our Full Suite of Fraud Prevention Services
CheckThatVIN™
CheckThatVIN is the accurate one-stop site for consumers and businesses to access trusted used-car VIN searches and title history information.
Learn More
NMVTIS for Insurance
NMVTIS is the premier publicly available system in the U.S. to report vehicle title data.
Learn More
Central Data Repository
CARCO's Central Data Repository is intuitive, easy to use, accessible 24/7 and enables data mining, analysis, reporting.
Learn More